Walk the Walk, East Coast to West Coast, with "The Cross-Country Flagman"
A National Prayer Walk...
Promoting a new birth of freedom and integrity in America--
Calling attention to the Ten Commandments,
the Golden Rule, and our nation's founding documents.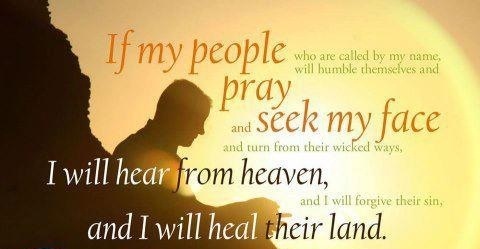 National Prayer Walk Completed
Santa Monica Pier -- April 29, 2015 -- Noon
Total Miles Walked = 3,242
---
---
Special Las Vegas Prayer Walk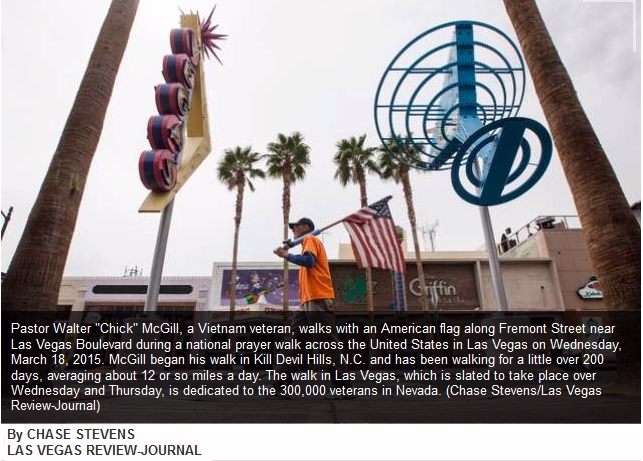 Wednesday, March 18, 2015 -- 12.5 miles completed.
Thursday, March 19, 2015 -- 12.7 miles completed.
---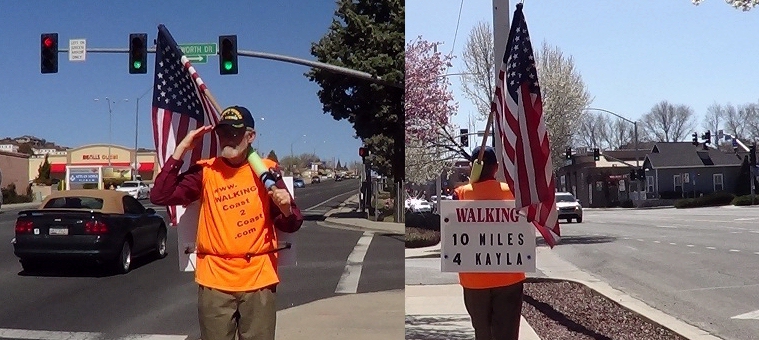 Sunday, March 8th, Pastor McGill walked 10.2 miles through Prescott, AZ as a special tribute to Kayla Mueller, praying for the community and Kayla's friends and family.
---
The Star Spangled Banner (Stanza #4)
"The Star-Spangled Banner" is the national anthem of the United States of America.
The lyrics come from "Defence of Fort M'Henry", a poem written in 1814
by the 35-year-old lawyer and amateur poet Francis Scott Key.
This song became our national anthem in 1931
by a congressional resolution. (Wikipedia)
Oh! thus be it ever, when freemen shall stand
Between their loved home and the war's desolation!
Blest with victory and peace, may the heav'n rescued land
Praise the Power that hath made and preserved us a nation.
Then conquer we must, when our cause it is just,
And this be our motto: "In God is our trust."
And the star-spangled banner in triumph shall wave
O'er the land of the free and the home of the brave!
The Star Spangled Banner Lyrics





My Country 'Tis of Thee (Stanza #4)

"My Country, 'Tis of Thee", also known as "America", is an American patriotic song,
whose lyrics were written by Samuel Francis Smith in 1831.
The song served as one of the de facto national anthems of the United States
before the adoption of "The Star-Spangled Banner" as the official anthem in 1931. (Wikipedia)

Our fathers' God to Thee,
Author of liberty,
To Thee we sing. Long may our land be bright,
With freedom's holy light,
Protect us by Thy might,
Great God our King.
My Country 'Tis of Thee Lyrics

---

The Route

---

Point of Origin: Kill Devil Hills, North Carolina, U.S. Route 64

Final Destination: Santa Monica Pier, Santa Monica, California, U.S. Route 66

The proposed walking route, an estimated 3,200 miles, begins on U.S. Route 64 in North Carolina, and the last leg connects via Historic U.S. Route 66 in New Mexico and continues to Santa Monica following the "Mother Road" as much as possible. The walk route has been altered several times to avoid dangerous roadways, which has increased the total miles to walk. The trek will pass through portions of 13 states, including North Carolina, South Carolina, Georgia, Tennessee, Alabama, Mississippi, Arkansas, Oklahoma, Texas, New Mexico, Arizona, Nevada and California.

U.S. Route 64 is an east–west United States highway that runs for 2,326 miles (3,743 km) from eastern North Carolina to just southwest of the Four Corners in northeast Arizona. U.S. Route 66 (US 66 or Route 66), also known as the Will Rogers Highway and colloquially known as the Main Street of America or the Mother Road, was one of the original highways within the U.S. Highway System. Route 66 was established on November 11, 1926—with road signs erected the following year. The highway, which became one of the most famous roads in America, originally ran from Chicago, Illinois, through Missouri, Kansas, Oklahoma, Texas, New Mexico, and Arizona before ending at Los Angeles, California, covering a total of 2,448 miles (3,940 km).

---

Veteran Walks Across U. S. for God

---

Veteran Arrives in Flagstaff on Cross-Country Walk

---

Flagstaff Snow Doesn't Stop Vet on Cross-country Trip




---

KSSR Radio Interview in Santa Rosa, New Mexico

---

Huntsville Times Roadside Interview
by Kay Campbell

---

Vietnam Veteran Raising Awareness With Cross-Country Walk


News9.com - Oklahoma City, OK - News, Weather, Video and Sports

---

Tennessee Minister Walking Across America With Old Glory

---

Walking Across America -- WTVA, Tupelo, MS Reporting

---

WLOS ABC NEWS 13 Reports
Pounding the Pavement -- Coast to Coast

---

Three-mile Police Escort Through South Pittsburg, Tennessee

---

Four-mile Police Escort Through Hiawassee, Georgia

---

---

Presentation of Momento to Mayor Sheila Davies of Kill Devil Hills

---

30-Day Walk Summaries in Graphic Form

---

TransAmerican Crosswalk Trivia

Pastor McGill is the first well-documented person in American history to make a solo "national prayer walk" of more than 3,200 miles from coast to coast, pryaing for each community along the walk route, including daily prayers for the nation.

The flag that Pastor "Chick" carries will be the first American flag in history to be hand-carried "from sea to shining sea" by an American-born veteran.

At 69 years old, Pastor McGill is likely the oldest person in history to transport an American flag coast-to-coast on foot.

Pastor McGill is one of the oldest men to walk from coast to coast in America and possibly the oldest veteran to complete the 3200-mile trek on foot without any rides.

---